Wedding Events Testimonials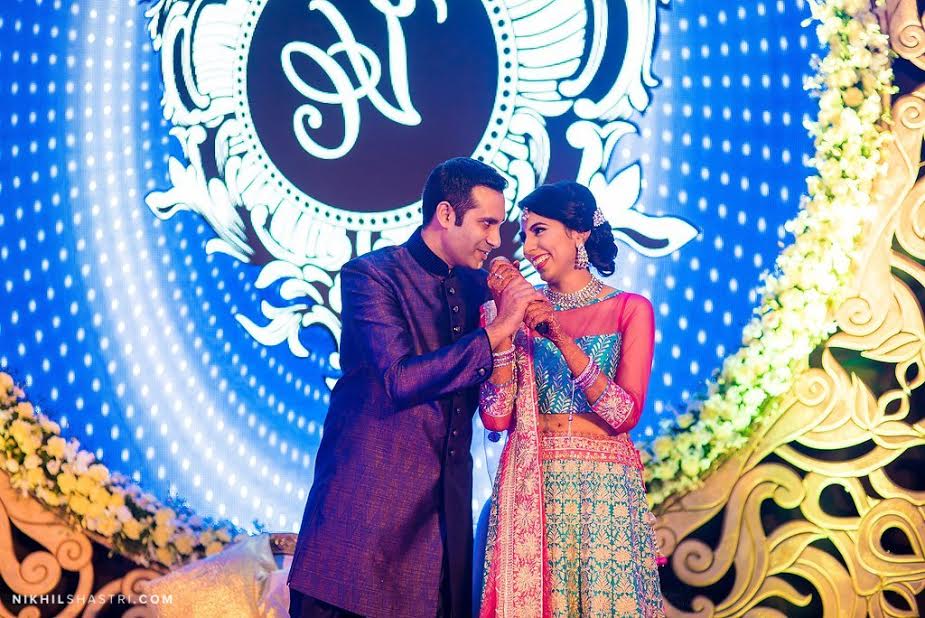 Rahul had done a cousin's wedding that my dad attended, and post that my dad already knew who was going to anchor my Sangeet. Rahul is an amazing host. He made sure there wasn't a single dull moment in the event. He has the energy and enthusiasm that keeps the crowd smiling and engaged right till the end. What's more, Rahul is approachable and a lovely person. He is always so willing to listen and ensure that the event goes just as you wish it. He adds a personal touch and no one will ever know that he isn't one of the family! Well, he is now one of us for sure, as he will be anchoring my brother's wedding and we are sure that he will work his magic again.
Vinita Gulabani, Bride, Bengaluru Destination Wedding
Rahul is very hard working. He met us twice before our engagement ceremony hosted is ITC Maratha, Mumbai. He asked us a lot of questions about our families and how we met and hence collected a lot of trivia about us. We thought it was casual chat but on the day of our engagement, this guy had weaved his magic! He came with a lot of punches and fillers. He had enough anecdotes not only about the two of us but also about our families. I have no idea how much more homework he may have done with our families! Our event was successful and the credit surely goes to the anchor - RJ Rahul Manjal!
We look forward to keep in touch with you, Rahul. Recommending him strongly!
                                 Shailee Ladiwala, Bride
"Rahul is a great guy to work with. He is actually not even an anchor! He is family! Actually he starts off as an anchor and by the end of the function; he has gelled with you like a family member. He gets all your secrets out from your family and pleasantly surprises you. He makes sure you have a good time on your event making it completely tension-free. He plans everything and you can totally rely on him as he takes of everything from the start to the finish. We love you, Rahul!
Sunny & Krisha Jashnani, Bride & Groom, Goa Destination Wedding
I wanted to have a dream wedding which I would like to talk of even at 70, sitting in my rocking chair! We decided to go for 4 days of ceremonies and wanted my sangeet/ring ceremony to be a super special one as it was only for family members, close relatives and friends. This had never been done before in either of our families so we had to basically depend on our instincts that too in Mumbai, when Kartik and I were in different states in the US and my mom was in Muscat! My mom had only just spoken to Rahul, but was totally hooting for him, saying "agar koi ceremony host karega toh it has to be him". Two months later, when we landed in Mumbai, I knew why my mom was all ga-ga about Rahul to the extent that we started teasing her that he was her son and if he attended the wedding it would be fine, even if we didn't come in!
Honestly, we were very lucky to have him; he had done his homework and made his observations about close family members like their names and their characteristics, with a Sindhi tadka to make the sangeet personalized. He helped me plan my surprise for Kartik and more than just the RJ, he was the Host who welcomed all of us to a fun, excitement and energetic evening. He left such a mark in all our hearts that whenever people talk about our wedding they want to know about Rahul too. He is a dedicated and brilliant artist.                                                                                         
Tripti Upadhyay, Bride
I called Rahul only hours before I boarded my flight back to Muscat from India. I had finalized every aspect of my daughter's wedding except for the anchor. As I heard his voice, I felt that he was the Emcee I was looking for. His voice spoke volumes; he was not just very polite and humble, but also his words and his tone was confident. Even without meeting him in person, I was 100% sure that he must host my daughter's sangeet. Without doubt, Rahul rocked the event. None of our guests, friends or family member could resist dancing when Rahul called them on stage. He made sure that the each person, young or old, had a good time. In fact, he was with us till the last moment on the sangeet day. Even for those who were shy to come up on stage and dance, Rahul waved his magic wand and made them feel very comfortable. Soon enough, everyone was on the floor without any hesitation and embarrassment.
Rahul and ONLY Rahul will be part of all our future family functions! He is like family since we met and we have been in touch. I would be more than happy to recommend him to my friends in India and in Muscat.
 RAHUL YOU ARE THE BEST! YOU ARE A MEGASTAR! Your body language, posture and eye contact during the function was fabulous. You are amazing on stage, with loads of energy and amazing words. You are very hardworking and talented. Stay this way always. God bless you!            
Kajal Upadhyay, Bride Tripti's Mom
You get to see a different side to me, at personal events. I love capturing smiles, especially when I win them from shy and reticent people. It makes me feel on top of the world!
My main aim is to ensure that there is family bonding. From getting even the most reluctant of family members on the dance floor to wowing your loved ones with special surprises, you can count on me to be less of a host and more of a friend! I even involve the special couple in unexpected ways. It helps them relax and be more involved in the goings-on. I can connect with every crowd mix. 
I owe my ability to connect to my RJ skills. My stint as an RJ helped me communicate with people across various age groups and backgrounds. My fluency in different languages adds that extra bit of flavour especially at Gujarati, Marwari, Punjabi, and NRI weddings!
I have hosted several personal events including destination weddings, traditional weddings, sangeet sandhyas, musical celebrations, ghazal and kawali concerts, personal functions, anniversary celebrations, family activities, and international trips & events.
BEST OF THE BEST:
Marriages at Sahara Star, ITC & Celebrations at Grand Hyatt with RDB
FalguniPathak'sNavratri Special DandiyaNite
Sangeet Evening at Aamby Valley along with Hawaain Theme Celebration in the morning 
Destination Weddings in Rajasthan
SangeetSandhya at MIG Club and various banquets
Cutural event of Disco Dandiya and RangeeloRaas for two consecutive years
Silver Jubilee ~ Marriage Anniversary Celebration at Mahableshwar & Turf Club Mumbai
"Shaadi-Ke-Side-Effects" THEME based Pre-Wedding Event!
Pool side pre-wedding party at the Imperial Palace
Silver Jubilee Marriage Anniversary Celebration at Mahableshwar & Turf Club Mumbai
INQUILAB's 74th Anniversary Celebration by Mid-Day: Ghazal Nite with singer Talat Aziz
Here is a video link of an enthusiastic Bhangra at an annual cultural event – Diwali Dhamaka – which I have hosted for the second consecutive year with a mammoth 1000-people crowd